MaM Multicover for babys care
Parents need great equipment for theire baby. Warm clothing for cold days in winter and light ones for summer time. Who like to take a decision for the baby carring cover, will be very impressed by the considerable advantages. It's a more in one benefit. The baby carring cover fits for many situations. Equal if its cold or warm. Equal if you like to use it for your baby buggy or for your baby car seat. The MaM Multicover is an all-rounder for real.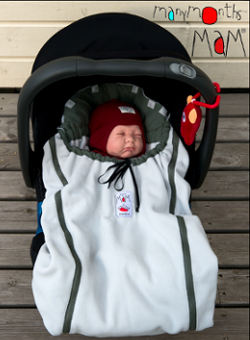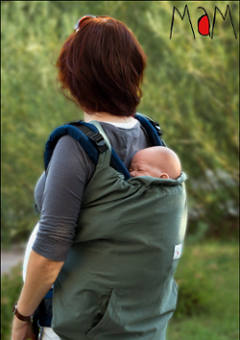 Specifics of our MaM baby carring cover:
keeps the baby warm in winter
fits on every baby carrier
light windscreen in summer
you can use it as foot muff
light cover for rainy days in every season
Changeable Cover
With help of a button system and convenient zip fastener it´s easy to change the Multicover into a foot muff. In summer you can use the cover without fleece lining. During cold winter time you will use it for warm cuddly care of your baby. How using the cover depends on season and temperature.
Special features of the all-rounder:
out casing for light water resistance
breathable cover
detachable baby bonnet for extra
variable size of the baby bonnet
demontable fleece lining for warmer temperatures
All-rounder Cover for baby carrier
The Multicover fits on every baby carrier. Also for favoured manduca baby carrier. Wide cut accounts for using the MaM Multicover for every age of children. With the usefull string, insert in fabric, you can move sizes of the cover. The baby carring cover is a valuable attendant for every weather. It doesn´t matter if it´s rain or snow falling from the sky, the midly breathable and hydrophobic microfibre will take care. If required you have the chance to swing open the dog-collar. During wind and rain it would be very usefull for the warmth of your baby.
Foot muff function of carring cover
It´s also a benefit of our wonderfull carring cover. With a zip fastener it`s possible to chop the fleece lining from the outer fabric. So you have a foot muff for your baby car seat. It´s for ideal temperature regulation. If it is needed, you can open or close the zip fastener. It depends on the warmth of your baby. For the savety belts it´s possible to remove the fleece lining on the back of the baby.
Save money with MaM Multicover
You can put money aside with the MaM Multicover. Through the multiple functions of the cover, it´s for different uses. If parents have to buy accessory for wraparound baby carrier, baby buggy, baby carrier or baby car seat, mostly it´s very expensive. But for this cases you can use the MaM Multicover. All in all it is a cheap solution for some matter of expense.
Machine washable with hood by 30 degree
Colour: dark grey / light grey (Footmuff Stormcloud/GlacierGray)
Material:
Outer fabric 100 % microfiber/polyester
Lining with warm polyester fleece lining, 100 % polyester fleece